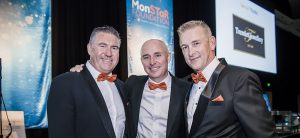 The 2018 MonSTaR Cup and Ball took place on Friday 23rd March and was our biggest and most successful to date. 144 golfers played at Pennent Hills Golf Club followed by 695 guests joining us for a fabulous night of dinner and entertainment at The Westin Sydney.
On the night we raised $415,000 which combined with the incredible donation from the Danny Bergan Memorial Foundation of $110,000, means we have been able to distribute $525.000 to our beneficiaries. The highest amount we have achieved to date.
The 2019 event will be on Friday 29th March 2019 – once again with golf at Pennant Hills Golf Club during the day and the evening function at The Westin Sydney
. Click here for 2019 info.
If you have any questions in the meantime or are interested in getting involved with the 2019 MonSTaR Cup or Ball, please feel free to email Sarah or call 0432 719210.
Click here to see photos from 2018 MonSTaR Cup Golf
Click here to see photos from 2018 MonSTaR Ball Red Carpet
Click here to see photos from the 2018 MonSTaR Ball Westin Ballroom